Before reading this post, please read the About Me page, as it serves as a form of disclaimer and gives some context in regards to the purpose of this blog.
In recent years, the international community has made a general consensus to move away from fossil fuels and invest in various forms of renewable energy.  While developing countries are still using fossil fuels to spur their growth, more modern countries such as those in Europe, the Americas, Australia, and most of Asia are investing in building and researching renewable energy sources.  Nations that rely on imported fuel sources can especially benefit from generating their own power.  For many others, investments in renewable energy has meant much lower prices for consumers.
Germany had a significant price drop for energy last December that gave many Germans a nice present early Christmas morning when prices actually dropped into the negative.  This New York Times article notes that at times consumers were paid more than 60$ per megawatt-hour to use energy.  A number of countries in Europe including Belgium, Britain, France, the Netherlands and Switzerland experience these significant drops in prices.  While negative prices aren't too rare, they occur often enough to bring to light some of the problems that cause the drops.  The unpredictable nature of solar and wind power in particular can put strain on the existing infrastructure that was built for coal and oil powered plants.  The infrastructure can be overwhelmed during spikes of power generation by renewable sources when coal and oil plants can't lower output fast enough to compensate.  This requires the excess energy to be used up or exported, since the technology for efficient enough batteries and capacitors does not exist at this time.  While this can be a headache for the people who run and manage the grid, it show that infrastructure in these areas need upgraded, and that resources need invested in creating batteries that can store more energy more efficiently.  The countries in Europe are fairly small in land area and population compared to some of the other powers around the globe, and don't all have the resources to spare on innovation and production of renewable energy.
Leaders in renewable energy don't have to be global superpowers or large established industrialized nations.  On the coast of Africa, Morocco is home to the largest solar farm on Earth, and is continuing to build new installations to increase their energy independence.  A Renewable Energy World article written by Dr. Hassan Nfaoui gives a great blend of historical, geographical, and economical context for Morocco's boom in renewable energy.  The location of Morocco's solar plants receives an impressive 7.9 to 11.2 hours of sunlight a day on average.  This gives significant potential for solar power generation.  Combined with average wind speeds of 10m/s in some areas, 7 to 8.5m/s in others, there are plenty of places for renewable energy production.  Considering that 96 percent of Morocco's energy is imported, and their energy consumption increases about 8 percent annually, it is unsurprising that the King of Morocco gave the green light for the construction of the Noor solar energy project.  This video by PBS goes into more detail about how the solar farm works and some of the future plans for the project.  There is a transcript below the video if needed.  By 2030, Morocco plans to produce 10,090 MW of energy annually through renewable means (this includes hydroelectric power).  This will put them well on their way to becoming "The Saudi Arabia" of renewable energy like some want.
Due to international efforts such as the Paris Agreement, many nations that contribute very little to atmospheric pollution and carbon emissions have started making strides to convert to renewable energy.  Many of the bigger producers face more significant challenges in converting their energy infrastructure, and are making slower changes as a result.  However, one country has begun to overhaul its energy production from being one of, if not the largest user, of fossil fuels. China.  China's industrialization efforts exploded in the 20th century and as a result they have become a global economic superpower.  This growth comes at a cost though, as major cities, especially Beijing, have become known for horrible air qualities, seen in this image from CNN.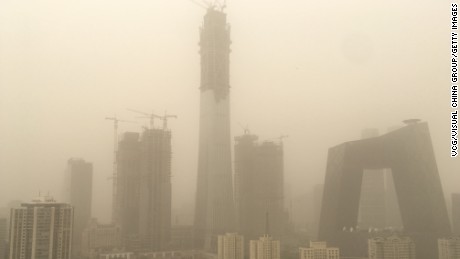 Despite their significant use of fossil fuels, China has begun investing heavily in renewable energy.  This Futurism article cites the Institute for Energy Economics and Financial Analysis (IEEFA), stating that China invested over 32 billion dollars in 2016, and over 44 billion in 2017.
  Their commitment to the Paris Agreement goes beyond adding renewable energy.  The Chinese government went after factories that didn't abide by new regulations for emissions, resulting in 40% of their factories being shut down.  An IEEFA report states that with the US out of the Paris Agreement, China has taken the opportunity to step up as a major contributor both financially and technologically.  Already a global manufacturing powerhouse, China now holds about 60 percent of the worlds solar cell manufacturing.  Their impact on renewable energy doesn't just stay in their country, Chinese companies are spreading across the globe as they build renewable energy plants in countries around the world.  These companies are focusing hydro power in Latin America, Africa, and Asia, growing China's economic influence.  The report also mentions that China is securing more and more of the world's cobalt market, due to their own miners extracting 62 percent of the cobalt mined in 2017.  Cobalt is an important part of more modern solar panels as it increases the efficiency of the solar cells.  With all these factors and more combined, China is set to become a global superpower in regards to renewable energy.
The research and development of more efficient solar cells and batteries that are more efficient and hold more power can give a nation an economic boost as the world buys their products.  China is leading in these areas, but there are more sources of renewable energy than just solar energy.  My next post will be about the different technologies being researched for renewable energy sources, and which countries are ahead in these areas.